Stack Pool
Stack Pool is part of Springfield Park in Kidderminster. It once was an area of industrial activity containing forges and mills. Today, only a solitary chimney stack remains, and the land has been transformed into an area of natural beauty.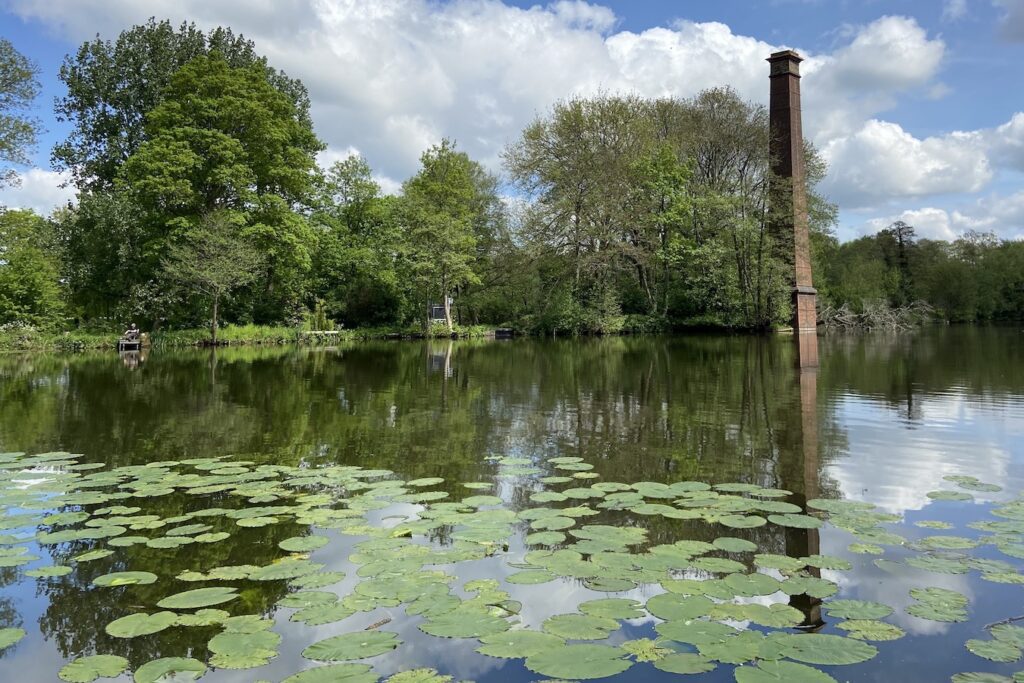 Key info
| | |
| --- | --- |
| Location | Springfield Ln, Kidderminster, DY10 2PS |
| County | Worcestershire |
| Maintained by | Wyre Forest District Council & Friends of Springfield Park |
Visiting guide
Open 24 / 7 (excluding café)
What can I expect when visiting Stack Pool?

Starting from the car park, you will see the pool on the left with the chimney stack in the distance. It is the only visible remains of Flock Mill, now demolished.

Continue straight until you come to the Wannerton Brook. Take the path to the left.

Notice the weir in the brook, more evidence of the area's industrial past.

The path will bring you round to the north bank of the pool. A small path leads to the stack where you can get a closer view of its base. Notice the lightning conductor running down the chimney.

Behind the north bank is a tunnel carrying the Wannerton Brook under the Staffordshire & Worcestershire Canal. The brook flows a little further before emptying into the River Stour.

There are ample wildflowers to enjoy, depending on the time of year.

You now have the option to continue your visit by exploring Springfield Park, walking along the Staffordshire & Worcestershire Canal, or visiting Broadwaters Mill Park nearby. You may wish to pop into the café by the car park for refreshments.
How long does it take to visit Stack Pool?

It will take you about 15 minutes to see the pool and stack. It's not a large site so you may wish to extend your visit.
Can you fish at Stack Pool?

Yes, you can fish at Stack Pool, licences are available from the Friends of Springfield Park bailiffs who walk the park daily.
Is Stack Pool suitable for a picnic?
How do I get to Stack Pool?

The pool is a 1.2 mile (2 km) walk from Kidderminster Railway Station. There are bus stops a stone's throw away on the Stourbridge Road with services to and from Kidderminster.

If you are arriving by car, there is a free car park by the entrance off Springfield Lane.