Broadwaters Mill Park
Broadwaters Park is a miniature green area located in Kidderminster on the grounds of a former mill, which was mostly demolished. A small part survived and now contains a new overshot waterwheel. The mill was one of many on the brook that flows through the area, which offers visitors a chance to explore its course as it journeys to the River Stour.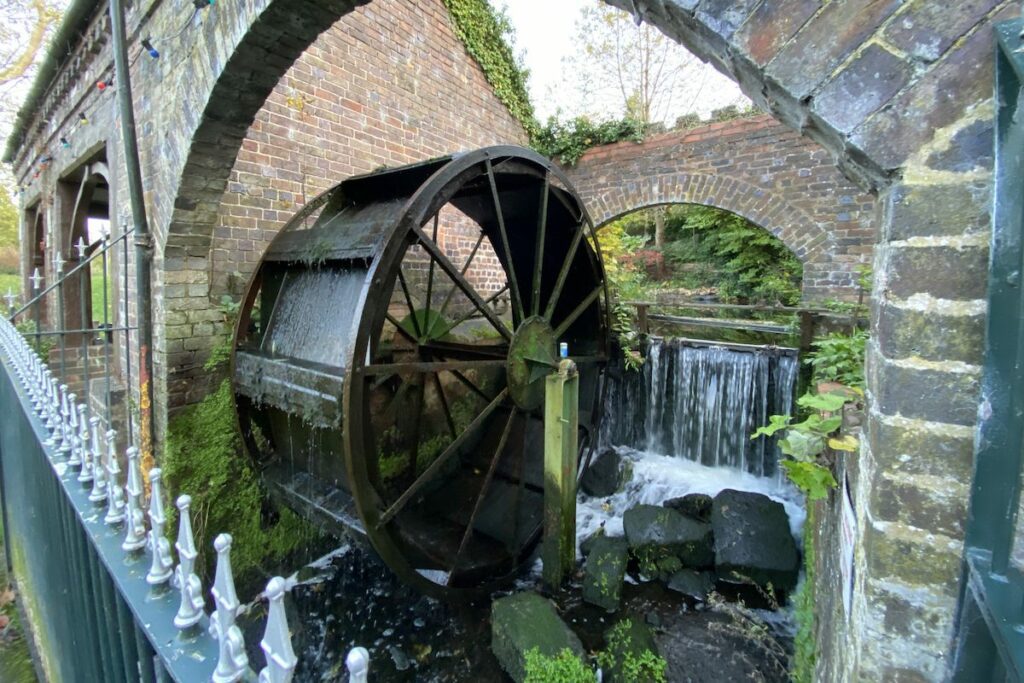 Key info
| | |
| --- | --- |
| Location | Stourbridge Rd, Kidderminster, DY10 2UL |
| County | Worcestershire |
| Maintained by | Wyre Forest District Council & Friends of Broadwaters Park |
What can I expect when visiting Broadwaters Mill Park?

Starting off from the car park, this was originally the Lower Pool, which has now been filled in. Follow the path along Broadwaters Brook.

You will then arrive at Pooh Sticks Bridge, the remains of Broadwaters Mill are to your right. There would have originally been two water wheels approximately 3 m wide and 3.65 m in diameter on one long shaft, which would have driven gears that powered the machines within the mill.

You can walk up to the iron fencing for a closer look at the overshot water wheel. Water flows into buckets attached to the wheel, which become heavier than the other side with empty buckets and so turn the wheel. Overshot wheels are renowned for their efficiency because they do not require a large flow of water.

Walk round to the side of the mill, the shelter is the only part of the original building, which would have been larger with multiple stories.

To the left are more remains of the mill indicating how big its original size would have been.

Continue northeast along the path, you will reach a sluice gate located on your right. This is how the mill would have controlled the flow of water to the wheels.

Follow the path around the loop to see more of the park and the Upper Pool. Head back to the car park. You may wish to extend your visit by crossing over the Stourbridge Road and following Broadwaters Brook into Springfield Park where you will find Stack Pool, which was also a hive of industrial activity.
How long does it take to see Broadwaters Mill Park?

It will take you 20 mins to walk around the park and inspect the remains of Broadwaters Mill; therefore, you may wish to extend your visit by heading to the Stack Pools, which was also the location of a mill.
Is Broadwaters Mill Park suitable for a picnic?

Broadwaters Mill Park does have many green spots for a picnic; however, its proximity to Stourbridge Road, which is very busy all day, does make it a noisy place. You may wish to picnic in Springfield Park nearby, which is much more peaceful.
What wildlife does Broadwaters Mill Park offer?
How do I get to Broadwaters Mill Park?

There is a free car park accessible from Broadwaters Drive. Next to the car park is a bus stop on Stourbridge Road with services to and from Kidderminster. If arriving by train, alight at Kidderminster and catch the appropriate bus service to Stourbridge Road.
History of Broadwaters Mill Park
1240 – Broadwaters Mill had most likely existed before this date and was initially used for fulling, a process to clean, shrink and re-shape the cloth woven by the weaver's loom. This rids the cloth of grease and other impurities leaving the finished product.
1746 – Broadwaters was converted into a corn mill by Thomas Smart of Halesowen.
1753 – The mill was made into an iron forge by John Homfray of Stourbridge.
1850 – Broadwaters was converted back into a corn mill [1].
1859 – A meeting of corn traders, millers, and farmers was held at the Lion Hotel, for the purpose of presenting Edwin Blundell of Broadwaters Mill with a silver tankard on the occasion of his leaving the neighbourhood to reside at Leominster [2].
1862 – Alexander Simpson and William Henry Blundell enter a business partnership called 'Simpson and Blundell' producing farinaceous foods for cattle at Broadwaters Mill in March [3]. The partnership didn't last long and was dissolved in December, with Blundell retaining the right to continue running the business under the same name [4].
1863 – Simpson and Blundell declare bankruptcy [5].
1890 – The mill was finally used as a laundry [1].
1891 – William Davies, a former miller at Broadwaters declares bankruptcy [6]. He was most likely the last miller.
1903 – A 5-year-old boy called Wilfred Lloyd was rescued after falling headfirst into Broadwaters Brook by a passing cyclist [7].
1932 – Thomas Henry Caldwell became entangled with the flywheel of an engine whilst engaged at Broadwaters Mill. He had already died from his injuries when found by a relative a few minutes later [8].
1937 – The mill is demolished by Kidderminster Town Council leaving the part now standing as a shelter [1].
1955 – This photo from the Francis Firth collection details the mill remains before the new waterwheel was installed.
2012 – Broadwaters Mill Park is awarded 'Field in Trust' status as part of the Diamond Jubilee Celebrations, which permanently protects the park as a recreational public open space [1].
Sources
Broadwaters Mill Park Information Board
(1859) 'Presentation to a Corn Dealer', Worcester Journal, 2 July, p. 8.
(1862) Birmingham Daily Post, 13 March, p. 2.
(1862) Worcestershire Chronicle, 17 December, p. 3.
(1863) Perry's Bankrupt Gazette, 21 February, p. 8.
(1891) 'The Bankruptcy Acts 1883 and 1890 Receiving Orders', Huddersfield Chronicle, 18 April, p. 8.
(1903) 'Child Rescued', Worcestershire Chronicle, 30 May, p. 3.
(1932) 'Fate of Young Married Man at Kidderminster', Birmingham Daily Gazette, 18 January, p. 3.