Diglis Basin & Dock
Diglis lies at the heart of Worcester's historical marine trade. It is the location of Diglis Basin (also known as Diglis Waterside and Marina) where the Worcester and Birmingham Canal joins the River Severn, and Diglis Dock, which supplied Worcester and the surrounding area with many essential goods and materials. Today, the canal basin and dock have been regenerated and are popular spots for walking along the Severn.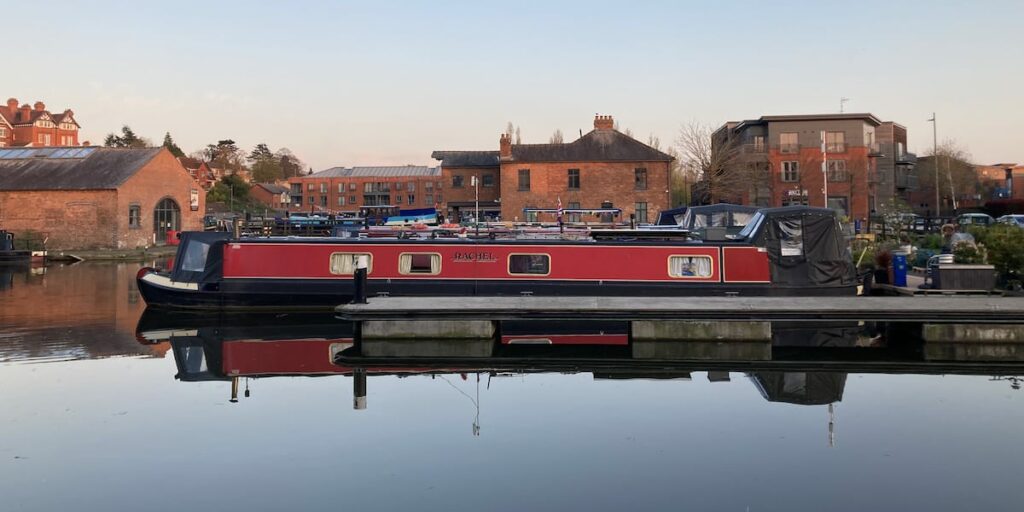 Key info
| | |
| --- | --- |
| Location | Diglis Rd, Worcester, WR5 3BW |
| County | Worcestershire |
| Completed | 1815 & 1893 |
| Maintained by | Canal & River Trust & Aquavista |
| No. of listed buildings | 3 |
What can I expect when visiting Diglis Basin & Dock?

Start by The Anchor Inn on Diglis Road and walk along the basin across the swing footbridge where you will notice some of the original warehouses that survive now as retrofitted commercial units.

You'll see Café Afloat moored by the pier and opposite, another fine example of a Georgian warehouse that is now a solicitor's office.

Continue where you will see the only remaining building from the Henry Webb & Co Chemical Manure Works, which now has been converted into residential apartments. The works once produced a range of manures for agricultural and horticultural purposes including all kinds of seeds.

On the left is where the Worcester & Birmingham Canal joins the River Severn via two barge locks. This is the route that the cocoa bean delivery would have taken on its journey to the Cadbury's chocolate factory in Bournville, Birmingham.

Follow Basin Road and you will end up in Diglis Park. Head to the riverbank where you can see the new quay that was completed by 1947. The entrance to Diglis Basin is in the distance.

Head south and you'll arrive at Diglis Dock. It's now commonly called Diglis Oil Basin referring to the dock being the final destination for tankers and dumb barges delivering crude oil products along the Severn.

Here's a summary of how the industry operated in 1959. Crude oil offloaded at Milford Haven by huge tankers from the Middle East was pumped 60 miles via an underground pipe to the Llandarcy refinery near Swansea. The oil is converted into petrol, paraffin and nearly 30 other products, which were then distributed to the Midlands via smaller tankers via the River Severn. The cargo is divided between Gloucester and Worcester because the river is too shallow to take fully laden tankers, except occasionally during a flood. The pumps at Diglis could extract 220 tons of petrol in an hour from a tanker [8].

Walk around the oil basin to appreciate its sheer scale and head south on Diglis Dock Road. The sound of water cascading over Diglis Weir signals your approach to Diglis Locks, one of the four River Severn locks constructed to improve navigation.

Continue south past the locks and you'll end up at Diglis Bridge. Completed in 2010, this pedestrian and cycle bridge offers a great vantage point for viewing Diglis Locks, the weir, and the cathedral on the horizon.
How long does it take to see Diglis Basin & Dock?

It will take you around 50 minutes to explore Diglis Basin, Diglis Dock, and Diglis Locks plus your return journey to the starting position. You can always extend your visit by exploring the Albion Flour Mill near the basin or take a stroll up the River Severn into Worcester city centre.
Is Diglis Basin & Dock suitable for a picnic?

The grassy area of Diglis Park overlooking the River Severn is an ideal location for a picnic. The park is located between the canal basin and the dock.

If you do not wish to bring a picnic, there is a floating café in the canal basin that serves refreshments with outdoor seating. The Anchor Inn has a beer garden leading onto the basin and serves food as well.
How do I get to Diglis Basin & Dock

The best place to park is on Diglis Road adjacent to the basin. It offers 2 hours of free parking Monday to Saturday between 8 am and 6.30 pm, there are no restrictions on Sunday. There is more parking with similar restrictions along the Diglis Dock Road.

If you are coming by train or bus into Worcester city centre, Diglis basin is a 10-minute walk and is best reached using the pedestrian route along the River Severn.
History of Diglis Basin & Dock
There are many recordings of near and fatal drownings at Diglis Basin, we have only included some examples for the purpose of avoiding repetition.
1784 – A canal to Worcester terminating at Diglis was first proposed by the Stourbridge Canal Company from their line [1]. It was bitterly opposed by the Staffordshire & Worcester Canal Company, the bill was defeated in the House of Lords, whereupon there were rejoicings and bellringings at Wolverhampton, Kidderminster and Stourport [2] (areas that were served by the Staffs & Worcs canal).
1789 – The idea of a canal to Worcester resurfaces. This time, a shorter route is proposed to the Severn at Diglis directly from Birmingham providing the line does not connect with the Birmingham canal network, water is supplied from the Severn, and the Stourbridge Canal Company receives a dividend guarantee [1]. This is just a small example of the political complexities that existed during the age of canal mania.
1790 – A party of opposition led by the canal companies of Birmingham and the Staffs & Worcs defeats the first bill.
1791 – Despite the continuation of fierce opposition, an Act of Parliament was eventually passed thanks to a new petition from Birmingham businessmen, which included 6,058 signatures on a roll of paper 14 yards long [3]. Construction of the Worcester & Birmingham Canal began the following year.
1815 – The Worcester & Birmingham Canal is completed, and Diglis Basin opens. The basin is connected to the River Severn via two barge locks.
1818 – A steam engine is installed to pump water from the Severn back up to the basin to keep the barge locks operational [1].
1820 – The steam engine is enlarged. Due to canal's proximity to Droitwich, warehouses and other accommodations for the salt trade were built next to Diglis Basin including the storage of salt for manure used for household purposes [4].
1836 – A fire devastates the warehouse of Messrs. Pickford and Co, canal carriers situated on the north-east side of Diglis Basin. The destroyed goods consisted of wool, bales and trusses of linen and valuable cloths plus Birmingham & Sheffield goods all of which was valued at several thousand pounds. The company is insured to the value of £2,000 (£233,600 in 2020) and the canal company, who owned the building, insured to the full value. As it was impossible to save the warehouse, the firemen directed their attention to the adjacent building, belonging to Messrs. Hood and Wall, which was filled with corn to the value of £3,600 (£420,500 in 2020) [5].
1841 – Henry Webb & Co construct the Worcester Chemical Manure Works next to Diglis Basin. The works has its own canal bay for loading and supplies a range of manures prepared for corn, seed, grass, and roots [16].
1877 – An unidentified dead man is found in the basin by one Thomas Henry Wilmott, an employee of the canal company. The age of the corpse is described as about 50 years of age, and a bag was attached to the back containing tools and clothing. There are no marks of violence on the body, which looked like it had been in the water for more than a week. The jury come to the conclusion the body was found drowned [6].
1886 – The Worcester Chemical Works of Henry Webb & Co next to Diglis Basin are put up for auction. The sale includes all buildings, plant and machinery, plus loading barges [15].
1893 – Diglis Dock is completed by Thomas Arthur Matthews for a sum of £6,737 (£885,300 in 2020). Land was provided for future extensions, which never came to pass.
1901 – A 7-year-old boy named William Graydon accidentally falls into Diglis Basin when playing with other lads. Upon hearing shouting, Thomas Henry Wilmott, who still was in the employ of the canal company, jumps in and rescued the drowning boy. William is revived in a short amount of time and is none the worse [7].
1903 – The Reliance Works of W. H. Aston Ltd is constructed on the northern side of Diglis Dock. They were English and foreign timber merchants and woodware manufacturers [11]. You can see what the business looked like in this photo from 1931.
1926 – Shell builds an oil depot by Diglis Docks [14]. After years of declining traffic on the river, the sudden increase in demand for oil products transforms the finances of the Severn Commission, the company and board responsible for collecting tolls and maintaining the river's navigation infrastructure.
1947 – This photo of one of Worcester's worst floods shows the oil depot has been expanded with additional storage tanks. A new riverside quay and transit shed has also been constructed north of Diglis Dock.
1956 – The growing demand for transport and industrial fuel after the Second World War resulted in the oil depot undergoing another major expansion to increase capacity and create new facilities [14].
1964 – Oil traffic had fallen due to the competition of pipelines and bulk freight trains [1].
1968 – The fuel and oil depot are closed by Shell-Mex and BP [13].
1969 – The Reliance Works of W. H. Aston next to Diglis Dock is acquired by John Wright & Son (Redditch) Ltd [12].
1979 – Police recover an Aston Martin DB6 from the bottom of Diglis Dock, which had been stolen in 1975 [10].
1987 – The two barge locks that connect Diglis Basin with the River Severn are listed as Grade II structures [19] [20].
1989 – Diglis Basin becomes part of the designated 'Canal Conservation Area' by Worcester City Council. The scheme was created to preserve the qualities of buildings and other structures of special architectural or historic interest.
1992 – Diglis Dock becomes part of the designated 'Riverside Conservation Area' by Worcester City Council [17].
2008 – Regeneration of the industrial estate and land around Diglis Basin and Dock begins. New homes, a hotel and gym, a community centre and green spaces are constructed bringing new life to what was a run-down area [18].
Sources
Hadfield, C. (1985) The Canals of the West Midlands. Newton Abbot: David & Charles (Publishers) Limited.
(1786) Aris's Birmingham Gazette, 22 May.
Pelham, R. A. (1935) 'The Worcester and Birmingham Canal', University of Birmingham Historical Journal, Vol. V No. 1.
(1825) Worcester & Birmingham Canal Proprietors' Minute Book, 3 January.
(1836) 'Worcestershire Natural History Society', Worcester Journal, 26 May, p. 3.
(1887) 'Discovery of Dead Body in Diglis Basin', Worcester Journal, 13 August, p. 2.
(1901) 'Nearly Drowned', Worcester Chronicle, 4 May, p. 1.
Bird, V. (1959) '£6,500,000 Ocean Gateway For The Desert's "Liquid Gold" To Keep Midlands Industry Booming', Birmingham Weekly Post, 2 October, p. 10.
Worcester Journal – Saturday 7th May 1892
Hale, R. (2019) 'Picture from the past: car recovered from Diglis Dock in 1979', Worcester News. Available at: https://www.worcesternews.co.uk/news/17647322.picture-past-car-recovered-diglis-dock-1979/ (Accessed: 24 May 2021).
Worcestershire County Council , 'Riverside Conservation Area'. Available at: http://committee.worcester.gov.uk/documents/s41718/Riverside%20Conservation%20Area%20Appraisal%20draft.pdf (Accessed: 24 May 2021).
(1969) 'A Century of Service to Industry and Commerce', Birmingham Daily Post, 31 October, p. 5.
Pryce, M (2016) 'Huge fuel depot at Diglis closes in 1968', Worcester News. Available at: https://www.worcesternews.co.uk/news/14934661.huge-fuel-depot-at-diglis-closes-in-1968/ (Accessed: 24 May 2021).
Kinghorn, B. (2020) 'When Worcester was largest inland oil port – Mike Pryce reflects on Diglis dock', Worcester News. Available at: https://www.worcesternews.co.uk/news/18654334.worcester-largest-inland-oil-port—mike-pryce-reflects-diglis-dock/ (Accessed: 24 May 2021).
(1886) 'The Worcester Chemical Manure Works, Diglis, Worcester', Public Ledger and Daily Advertiser, 22 May, p. 2.
(1877) 'Messrs. Henry Webb & Co.', Worcestershire Chronicle, 2 June, p. 4.
Worcester City Council (2020) Conservation Areas. Available at: https://www.worcester.gov.uk/planning/heritage/conservation-areas (Accessed: 24 May 2021).
Paine, D. (2008) 'Something amazing is happening down at Diglis docks', Worcester News. Available at: https://www.worcesternews.co.uk/news/2030708.something-amazing-is-happening-down-at-diglis-docks/ (Accessed: 24 May 2021).
Historic England (2020) Barge Lock No 1 Adjacent to River Severn. Available at: https://historicengland.org.uk/listing/the-list/list-entry/1389765 (Accessed: 24 May 2021).
Historic England (2020) Barge Lock No 2. Available at: https://historicengland.org.uk/listing/the-list/list-entry/1389766 (Accessed: 24 May 2021).