Albion Flour Mill Worcester
Albion Flour Mill once adorned the Worcester skyline as one of the most recognisable landmarks alongside the cathedral. A fire devastated the complex and the surviving buildings were developed into residential apartments. This site is a great example of industrial heritage that was retrofitted for modern use.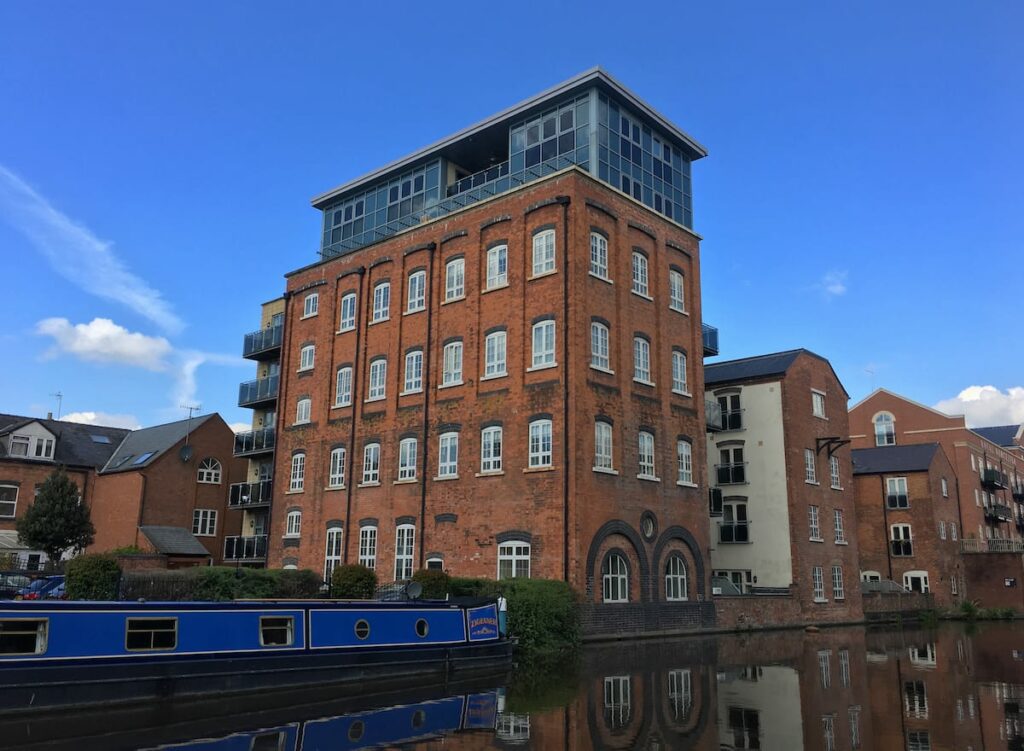 Key info
| | |
| --- | --- |
| Location | Portland St, Worcester, WR1 2NY |
| County | Worcestershire |
| Completed (first buildings) | 1843 |
| Maintained by | Albion Mill (Worcester) Management Company Ltd |
Visiting guide
Outside access open 24 / 7
What can I expect when visiting Albion Flour Mill?

Start off on Mill Street where it crosses the Worcester & Birmingham Canal. You can get a great view of the mill complex from the road bridge, including the surviving iron supports of a winch balcony and its access door above, which is now bricked up.

The building on the corner of Mill Street and the canal is one of the earliest on the site, which appears to have originally been used for storage and vehicle loading.

The next building has a late 19th century or early 20th century façade, maybe from the year 1891. There is an engraved stone plaque that displays the business name below the top pediment window. Townshend was the surname of the family that operated the mill. The new brickwork on the ground floor covers what was an original loading bay entrance.

The next building consists of what used to be terraced houses, the left door has now been converted into a window. According to former staff at Royal Worcester, this building was used as a management dining and boardroom, the rest served as a house for caretakers.

You will now move to the corner of Mill Street and Portland Street. The corner building that continues along Portland is a modern construct standing on what would have been the original entrance to the mill courtyard. It's good to see the developers took care to construct new buildings that blend with their Victorian counterparts.

Walk down Portland Street and you will see an access drive on the left that leads into the residential car park where you can get a closer glimpse of the core buildings from the late 19th century extension. It contains a mixture of iron and timber columns that support the internal floors. Before it was converted into residential apartments, the developers had to deal with scars in the roof timbers and ceilings that may have related to machinery that was removed [1].

Continue right through the drive into another car park where you will get a close-up view of the tall mill building that once held the water tower, which was adorned with a castle-like turret complete with crenellated parapet. The structure originally had another 5 storeys on top of the remaining brick building you see today as seen in this photo. Sadly, the mill was devastated by fire in 1960 [2] and so the height of the main building was literally cut in half. Modern development has extended the height slightly with the addition of penthouses. The building also retains some of its original windows.

The car park you are standing on is where another iconic building of the mill once stood as seen in this photo. Another photo shows the building being demolished in 1982, probably due to damage caused by the fire.

Turn around and you will see an arch drive that leads you back onto Portland Street where you will see the Albion Mill Cottages. This housing terrace was built over two large 19th-century reservoirs, which probably fed steam engines within the mill complex. The reservoirs were filled with porcelain waste from the nearby Royal Worcester works between 1884-1885 before the construction of the terrace, which was most likely provided by the mill for its workers [1].
How long does it take to see Albion Flour Mill?

It will take you around 10 minutes to see the mill complex. Bear in mind it is private residences so you can only see the exterior. It's worth extending your visit by exploring Diglis Basin & Dock, which is located on the other side of the canal.
How do I get to Albion Flour Mill?

There is limited parking on Mill Street. If you cannot find a space, try Diglis Road adjacent to the basin, which is a 5-minute walk away. It offers 2 hours of free parking Monday to Saturday between 8 am and 6.30 pm, there are no restrictions on Sunday. There is more parking with similar restrictions along the Diglis Dock Road.

If you are coming by train or bus into Worcester city centre, Albion Mill is a 10-minute walk and is best reached using the pedestrian route along the River Severn then cutting across Portland Street.
History of Albion Flour Mill
1815 – The Worcester & Birmingham Canal is completed, and Diglis Basin opens. The basin is connected to the River Severn via two barge locks.
1841 – Thomas Townshend (born Thomas Suffield), was recorded in the census living and working as an apprentice miller and baker in Winchcombe, Gloucestershire. His lineage can be traced back to Halesowen [3].
1843 – The first buildings of the City Flour Mill are constructed between Portland Street and the canal as it approaches the entrance of Diglis Basin [1].
1861 – Thomas was recorded as managing a flour mill at the age of 27 whilst residing in Dudley [3]. He then caught the attention of Mr Lucy whose son was at that time continuing the operation of the City Flour Mill and needed a practical man as a partner [4].
1865 – Thomas moved to Worcester after being accepted as a partner in the new firm known as 'Lucy and Townshend' [4].
1869 – Thomas is recorded as "Thomas Suffield Townshend of Albion Steam Flour Mill, Worcester" when he was appointed executor of his cousins will [3]. By this point, Mr Lucy senior had been dead for many years leaving Thomas to continue running the mill under his new company "T S Townshend & Sons Limited" [4], which probably led to the mill be renamed as "Albion Mill".
1882 – Thomas is appointed Mayor of Worcester after holding a series of public offices including Councillor, Sheriff, and Alderman.
1890 – Thomas suddenly dies from apparent heart problems induced by anxiety as he hastily travelled to Guest Hospital, Dudley to visit an employee who had been injured that day [4]. He was 58 years old, and control of the mill is passed to his sons Frank, Percy, and Conway [3].
1891 – The mill employees have their annual company outing by joining the excursions of the men from the Worcester Iron Foundry to Bournemouth [6].
1898-1901 – The mill submitted eight planning applications for additions such as a new flour and sack room, storeroom, grain store and enclosure [7].
1907 – Conway Townshend exits the business by mutual consent [8].
1960 – Albion Mills is sold to the Royal Worcester Porcelain Works. At the time of sale, the covered floor area is reported as 60,000 square foot containing silos with a storage capacity of 2,300 tons. The overall site has a total area of over 4.5 acres and the sale included plant machinery, the barge intake elevator, sack hoists, man elevators, weight machines and steam raising plant [5].
Five months later, a fire devastates the mill damaging five storeys of the main tower and surrounding buildings. Forty families are evacuated from adjacent homes and the Worcester skyline glows red and orange from the flames. Fire chiefs at the time describe the blaze as "the largest and most potentially dangerous fire in Worcestershire since the war". After the fire, the main mill tower is given a new roof and stands at a reduced height of four storeys [2].
1962 – T. S. Townshend & Sons Limited gives notice of insolvency and one Arthur Thomas Brewer of Worcester is appointed as liquidator [9].
2003 – An archaeological evaluation report and historic building assessment are carried out on the mill [1].
2008 – The mill complex is renovated and converted into 38 apartments.
Sources
Anderson, A. et al. (2003) Albion Mill, Mill Street, Worcester, Worcestershire. Oxford: Oxford Archaeology.
(2000) 'Mill blaze of 40 years ago', Worcester News, 11 November. Available at: https://www.worcesternews.co.uk/news/7783697.mill-blaze-of-40-years-ago/ (Accessed: 9 May 2021).
O'Connor, R. (2020) The Townshends of Halesowen, Halesowen Roots. Available at: https://www.halesowenroots.com/TOWNSHENDOFHALESOWEN.htm (Accessed: 9 May 2021).
(1890) 'Sudden Death of Alderman Townshend', Worcester Chronicle, 27 December, p. 5.
Birmingham Post – 5th July 1960.
Worcester Chronicle – 8th August 1891
Worcestershire County Council (2020) Worcester City Planning Applications 1865 – 1901. Available at: https://www.worcestershire.gov.uk/downloads/file/646/worcester_city_planning_applications_background_and_1865_-_1901_index (Accessed: 9 May 2021).
(1908) The London Gazette, 17 January, pp. 442-443. Available at: https://www.thegazette.co.uk/London/issue/28100/page/442 (Accessed: 9 May 2021).
(1962) The London Gazette, 4 May, p. 3625. Available at: https://www.thegazette.co.uk/London/issue/42665/page/3625 (Accessed: 9 May 2021).